The Davisons
This is the list of names I was given by Maureen 'Jim, Arthur, George, Norman, Joe, Lil and Elsie' Again the 1911 census will make this clearer as there isn't a George a Maud or a Mary Elizabeth on the 1901 census.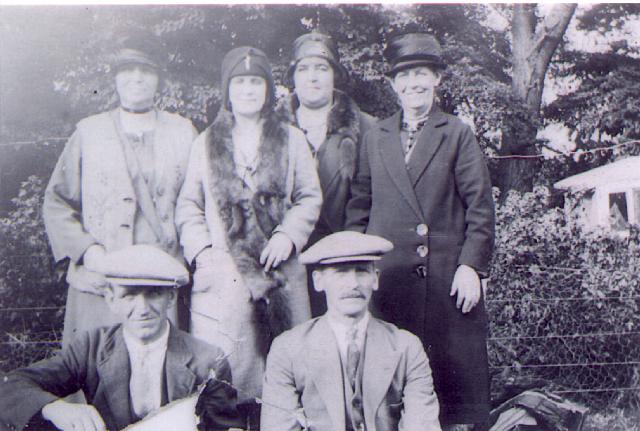 The woman in the dark coat is Hannah and the man in front of her is William. Both could be aged anything between 50 and 70.Sitting next to William is George? who could be in his 40's or older. Hannah had a younger brother called George H.Y. Davison b. 1877 Judging from the clothes this photo must have been taken in the late 20's to early 30's around the time of the general strike in 1927 and the Jarrow march. The three women in the photo should be Maud?, Lillian and Elsie. Why isn't Mary Elizabeth in it or is she the one who took the photo? What about the other boys? According to Maud Nana was born in a hospital known as 'The Monk'.
William Davison
So far he has indeed proved something of a jinx when trying to track down the Davisons. William smoked twist tobacco in his pipe apparently. Apart from that I know nothing. I can't find him on the 1871 census or at least I can't surmise which one he is. Jen Youster tells me that it is a family tradition that one of the Davisons was on the Titanic. Looking at the passenger list there is a third class passenger called Mary Davison. William sister Mary was born in 1869 so if they are one and the same this Mary would have been 43 if she was on the Titanic. The Davisons on the Titanic were Thomas Henry Davison aged 32 (so b. c. 1880) and Mary E. Davison Nee Fink/Finck aged 34. They had lived in Liverpool but had visited Bedford Ohio 4 years earlier and had decided to settle there. Thomas was a blacksmith by trade. Thomas perished but Mary (b. 19/2/1878) was picked up by the Carpathia.

Mrs Thomas Henry Davison (Mary Finck) was the daughter of Mr and Mrs John Fink, Sr., of Cleveland, Ohio. The Finks received a letter from their daughter two days after the disaster telling them that the Davisons had booked passage on the Titanic. Mary and her husband, Thomas Henry Davison, boarded the Titanic at Southampton and were travelling in third class.

Mary survived the sinking and was cared for by the Junior League in New York after leaving the Carpathia.

References : Cleveland Plain Dealer (Ohio), 19, 21 April 1912
There are a few Williams who married a Hannah BUT we of course then have to assume that Hannah is his wife's first/commonly used name. As with the Wrights although someone is known by a name that is not necessarily the same name that is put down on the census. 3 children of James Wright change their names between the 1891 and 1901 census. FORTUNATELY, like the Wrights the Davisons had a large family so there are enough around to attempt to track them down. My criteria is that there should be 4 names in the family that do not change. 5 would be ideal.
The 1891 Census
| | | | |
| --- | --- | --- | --- |
| Name | Relationship | Age | Birthplace |
| William | Head | 27 | Chester-Le-St, Durham |
| Hannah | Wife | 19 | Boyne, Durham |
This of course is difficult to disprove from the 1891 census alone as there are no offspring. But we shall see what happens to them in 1901 shortly. They are living in Pelton Fell Road in Chester-Le-St and William is listed as a mason/labourer. I haven't a clue where Boyne is if indeed it exists. There is a Pelton and a Pelton Fell in modern day Chester-Le-St. Pelton Fell Road seems to be the B6313
The 1911 census
| | | | | | | |
| --- | --- | --- | --- | --- | --- | --- |
| Name | Relationship | Marital Status | Sex | Age in 1911 | Occupation | Where born |
| William Davison | Head | M | M | 46 | Labourer Colliery | Chester Le St, Durham |
| Hannah Davison | Wife | M (for 20 years) | F | 38 | | Langley Moor Co. Durham |
| Joseph Davison | Son | S | M | 19 | Miner | Chester Le St, Durham |
| James Davison | Son | S | M | 17 | Apprentice Mason | Chester Le St, Durham |
| Arthur Davison | Son | S | M | 15 | Miner | Chester Le St, Durham |
| Norman Davison | Son | S | M | 12 | School | Chester Le St, Durham |
| Lily Davison | Daughter | S | F | 11 | School | Gateshead, Durham |
| Elsie Davison | Daughter | S | F | 10 | School | Sheriff Hill, Durham |
| Mary Elizabeth Davison | Daughter | S | F | 8 | | Low Fell, Durham |
| George Robson Davison | Son | S | M | 4 | | Springwell, Durham |
| Joseph Davison | Relative | Widower | M | 77 | | Chester Le St, Durham |
The census also states they had 9 children of whom one died aged 3 weeks in Usworth? named George Henry Davison between Mary and George Robson. Also note that Joseph Davison is a relative. Williams father was called John b. 1845 so is the Joseph b. 1834 an uncle as he is too young to be John's father.
The 1901 census
The Davisons are living at 3 Church Row, Gateshead (St Johns parish) which. There is an existing Church Row in Windy Nook and I will have to assume this is the exact location. Windy Nook is right next door to Heworth where Charles Lewis Wright was living in 1901. Notice that there isn't a George or a Maud
| | | | | |
| --- | --- | --- | --- | --- |
| Name | Relationship | Age | Birthplace | Occupation |
| William | Head | 36 | Chester-Le-St | Mason/labourer |
| Hannah | Wife | 29 | Witton Gilbert, Co. Durham | |
| Joseph | Son | 9 | Chester-Le-St | |
| James | Son | 7 | Chester-Le-St | |
| Arthur | Son | 5 | Chester-Le-St | |
| Norman | Son | 3 | Chester-Le-St | |
| Lily | Daughter | 2 | Gateshead | |
| Elsie | Daughter | 3 months | Gateshead | |
Witton Gilbert is a small Durham town close to Sacriston and Pity Me. It is of course also close to Chester-Le-St the registration centre for births, marriages and deaths. William was born in c. 1865 and Hannah in c. 1872. Witton Gilbert is also very very close to Framwellgate Moor where James Wright lived.
Arthur was registered in Jan-Feb-Mar of 1896 in Chester-Le-St

Here is Norman's birth registration for 1898


As for 'Heathey' Dobson, Billys fatha, there is a Heath Dobson born in Chester Le St in 1900
There is a Maud Davison registered in Gateshead in 1902, Mary Elizabeth would have been born 1 year later so when the 1911 census arrives this can be confirmed.
Reaching back beyond 1891
Jenny and Robert Youster suggests they married in the first quarter of 1891. Robert also states that Hannah's surname was WALKER and has supplied a huge tree of names for me. There is indeed a marriage of William Davison and Hannah Walker in Durham for 1891.
There are 5 William Davisons listed in the 1901 census as being born c.1865 in Co. Durham. Only one of course is our one born in Chester-Le-St. The others are listed as being born in Kelloe, Sunderland, Annfield Plain and Allausford/Allansford.
There are 8 listed on the 1891 census again one is ours, the Sunderland, Allansford (which is a suburb of Consett) and Annfield Plain Williams are there. Ours has changed his birthdate to c.1864 (or had it changed by Ancestry.co.uk I should say but then he is aged 27 on this census and 36 on the other therefore his birthday is sometime around when the censuses were taken) and there is no mention of the Kelloe man, Kelloe is near Coxhoe which is south of Durham so he could be the one listed as being born in Durham in this census. There are others born in Crook, Monkwearmouth and South Shields.
On the 1881 census (William would be 16/17 then) there are 10 of them. The Kelloe man again with parents named Richard and Elizabeth. There is one born in Heworth aged 16 who is a Shipbroker and has the middle name Vasy. Another is listed as being born in Shotton (Near Sedgefield). The Sunderland one again plus another from Sunderland. Two from Durham, another from Haswell, one from Seaham and the last one from Lanchester. So which one is OUR William?
On the 1871 census William would have been 6 or 7. There are THIRTEEN listed on the 1871 census. The Haswell one is living in Haswell but lists Shotton as his birthplace, the other Shotton one is there plus the two Sunderland ones William Vasy/Vasey again in Heworth, the Lanchester one, one in Framwellgate Moor, one in Tanfield, one from Crook, one from Seaham, one from West Hartlepool, one from Tyne dock and one from East Hetton.
We can discount the ones from Crook, West Hartlepool and the two Sunderland ones and probably the Tyne Dock one so that leaves our William as possibly the Heworth one, or one of the Shotton ones IF we discount the Durham based ones and the Framwellgate Moor one as the Seaham and Haswell ones would surely be registered in Sunderland not Chester-Le-Street. The East Hetton lad is also a possible which I am confirming one way or the other via Genes reunited. He must be the Heworth one.
John Davison b.1845 and mother Mary b.c. 1806
Williams father is John Davison b. 1845 or 1844 and his mother is Mary O'Brien b. 1843. in 1881 they were living at 36 York St, Gateshead. John is 36 and working as a tanner, Mary is 38, William is 14 (which seems odd), Mary is 12 (correct) and Jane Ann is 10 (correct). So it seems Williams age isn't quite what it seems hence my difficulty in finding him. All of them are listed as being born in Gateshead apart from the mother who is listed as being born in Newcastle. There is a York St near Heworth which could well be this one.
In 1871 John (28) and Mary (29) are in St Marys parish Gateshead which is of course Heworth. William is 4 (which matches the 1881 census, remember ages were regularly rounded up or down in these early censuses), Mary is 2 and Jane Ann is 5 months. John is listed as a Miner and they live at 32 Nelson St which is near the Tyne bridge.
In 1861 John would have been 17/18. There is a John Davison aged 17 an agricultural labourer in Usworth Village, Co. Durham. Usworth is close to Springwell. Mother is Mary aged 55, a Laundress, Sisters Margaret (25) and Jane (23) and a grandson who may be the son of one the girls called Thomas aged 3. Of course Thomas COULD be the son of Joseph Davison the widower who was living with William and Hannah in 1911 as in 1861 Joseph would have been 27 years old.
In 1851 Mary is 47! John is 7 and the sisters are 15 and 13. Margaret's middle name is Ann. They are in Usworth Village. Mary is a Charwoman and all were born in Usworth.
Trying to find William Davison in 1871
The 1871 Shotton William is the correct age and the family is listed as:
John Davison 38
Mary Davison 32
Elizabeth Davison 3 months
This is NOT our family though as the parents are the wrong age.
Birth records
William registered in Durham last quarter 1865
William registered in Tynemouth J/A/S 1865 who I assume is the South Shields one?
Another in Tynemouth A/M/J 1865 plus a William Hastings Davison in Sunderland and a William Ridley Davison registered in Durham.
in J/F/M there is one registered in Houghton plus a William Dufton Davison in Hartlepool who I assume is the West Hartlepool one.
In last quarter of 1864 we have one in Tynemouth, Durham, Sunderland and Easington. That makes 11 so far.
in J/A/S we have a Durham an Auckland and a William Thomas Davison registered in Durham making 14 possibles now.
In April/May/June 1864 we have William 'Vasey' registered in Gateshead, finally a William registered in Chester-Le St, and another Sunderland one.

In the first quarter we have Williams in Houghton, Easington and Auckland.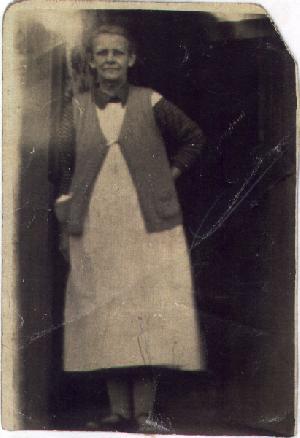 Nana Wrights mother Hannah Davison
In 1903 Hannah would realistically have to be under 45. She would therefore have to be under 35 in 1891. In fact we know now she was born in 1872 so in 1903 she would have been 31.
Hannah's sister, Aunt Nell, lived at Jackson St, Gateshead which is a few streets away from Sunderland Road. The photos from Billy show the Davisons keeping pigs. In Springwell! The place must have been more like a farmhouse. The little girl in the photo is Margery Moore, Maud's daughter and therefore Billy's cousin Note the pithead winding tower in the background. Is this the pit where Billy had his ribs crushed by the roof falling in? Note also Hannah has her left arm on her hip in an almost identical pose to the photo above.
Maureen says the Davisons lived at Glasshouse Yard, Springwell and kept chickens. I don't think the street exists now. They had one of those half and half farmhouse doors and kept chickens. Springwell is VERY close to Birtley.
Maud stated that the family lived at Low Fell but I couldn't find any trace of them in the 1891 census. Like the Wrights they may well have lived at Low fell at some point but not for ALL of their lives.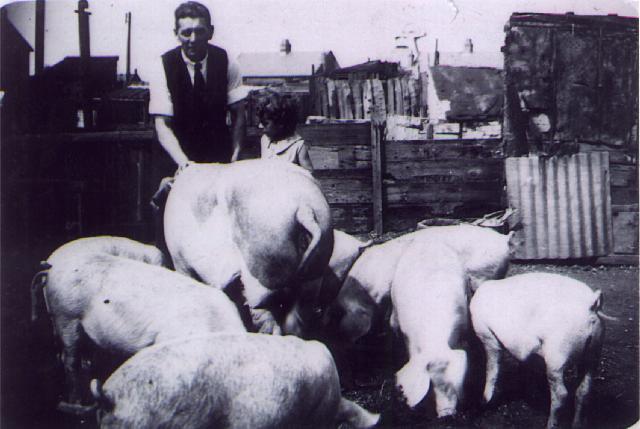 This photo apparently shows Billy's Uncle George (if indeed he had an uncle George) and Margery again. This photo was taken at exactly the same time as the one above. This one shows the sow and all 7 piglets.

Josephine's husband was killed by the Japanese in Burma. Who is Josephine though, one of Nanas nieces? The 'Joe' I've listed in the family tree above?
There is a Maud Davison born in 1902 who could be Nanas sister.
There are two Mary Davisons born in 1902
First one is registered APR-MAY-JUN 1902

Second one is JLY-AUG-SEP 1902
There is a Mary Elizabeth Davison entered for APR-MAY-JUN 1903
Without knowing her date of birth she could be any one of these 3. Maureen stated that Nana was 43 when Charlie died (Oct-Dec 1946) so she would indeed have been born in 1903. That would mean that this entry could well be her registration details.
'Aunt Lil'
Auntie Lil's son David 'Dava' Leach was training to be an opera singer but had to give it up to work down the pit. When Nana broke out of the workhouse in Berwick (which is now a maternity hospital) they went to stay with Lil and uncle Jack. Jack was a pitman and had skin infections from the coal dust. Lil had two other daughters Olive and Nancy and may have had another daughter. Looking at the family tree above Aunt Lil could be one and the same as the Lil I have down as Hannah's sister. Of course Hannah could have named a daughter after her sister.
Maud Davison (Nee Bailey) and her son Norman, lived at Springwell when fatha was 5. Todays generation is little different in that they tend to stay in the same areas.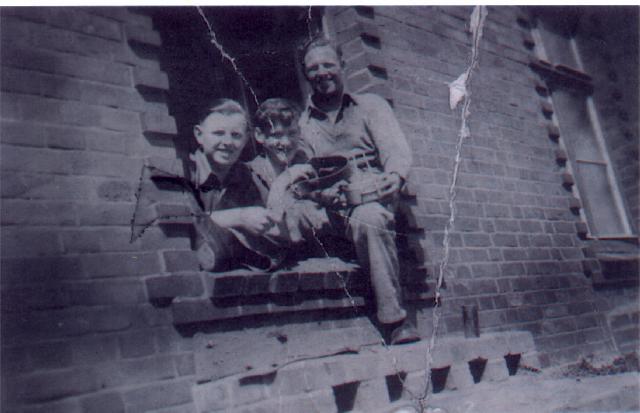 This is Billy holding the Billy can and two younger chums or relatives. Billy carried most of these photos throughout his service, he would have been old enough to serve in the second world war. Billy married Christine Dixon. Her brother was on the Ark Royal when it was sunk in the Mediterranean. He survived that and the shark infested waters to be killed on a motorbike on Byker bridge. He's buried in Elswick cemetery apparently.

Hannah's family
Hannah's father is James Walker b. 1845 in Bellingham Northumberland and his wife was Elizabeth Peacock b. 1854 in Craghead Co. Durham.
Hannah's family were Robert, George, Ellen, Mary and Sarah.
In 1871 James Walker is living as a lodger with a family called May in Framwellgate Moor. James Wright lived in Framwellgate Moor for at least the 1881 census
In 1861 James is aged 15 and lives with:
(Father) Robert Walker (42, so born c. 1819), (Mother) Tamer (Nee Telford) Walker (40, so born c.1821), William (19, so born c.1842 born in Haltwhistle ), James (15), Hannah (12), John (9), Robert (7), Joseph (5) and Tamer (1). They are living in Crook at 80 High Pantry Row, in Sunny Brow village. James, Robert and William are all coal miners. They seem to have moved around as only Robert and James are listed as being born in Bellingham while the rest are born in Co. Durham in Lanchester, Seaham, Haltwhistle, Winlaton, Sherburn and Sheriff Hill. James' mother Tamer comes from Cumberland.
In 1851 James is 6 and they are in Sherburn. Hannah is 2 and William J Walker is 8. 'Tamer' is listed as Jamer!
Robert Walker 1819- ?
In the 1871 census the Walkers are listed as:
Robert (52), Lamar! (50), John (19 born in West Sherburn), Robert (17 born in Winlaton), Mary (16 and not on the 1861 census but born in Sunny Brow), Joseph (15, born in Low Fell), and George H. Walker (9 born in Sunny Brow). There is no sign of Tamer/Lamar/Jamer jnr who should be 11 and no sign of Hannah either who would be 22.
Also there is Thomas Telford aged 82 (born in Cumberland in 1789) who is a widower and listed as a relative. I assume he is Tamers father seeing as he was born in the correct county and presumably then isn't a relative of Robert. In 1861 there is a 70 year old born in Berthe Town Cumberland married to a Hannah and they are living in Swallwell aged 67. He is listed as a Coal miner/Pauper.. Then in 1851 it seems that Thomas is 59 married to Hannah (55) and it says he was born in Bewcastle, Cumberland. There are children called Margaret (21) a dress maker, Thomas (18) coal miner, Hannah (16) and John (12) also a coal miner (unless this is an error). They are living in Haltwhistle. Bewcastle is near Brampton and is in East Cumberland so it's a short hop from there to Haltwhistle.
Robert is listed as a Miner and Publication. Next door a Mr Ryan is listed as a miner and Innkeeper so perhaps they ran the same Pub? John is a miner as is Robert. Mary is listed as a servant. They are living in St John St, New Durham
In 1881 Robert is 62 (still working as a coal miner) and they are living in Heworth. Tamer is 60 and George H is still at home and aged 18, his place of birth has changed to Willington and Tamer is listed as being born in Newcastle now. They are living in Church Row. Again James Wright was living in Heworth in 1891. They seem to be following each other around. The Davisons were in Church Row, Windy Nook/Heworth in 1891 so paths are certainly converging.