Charles Lewis Wright 1899-1946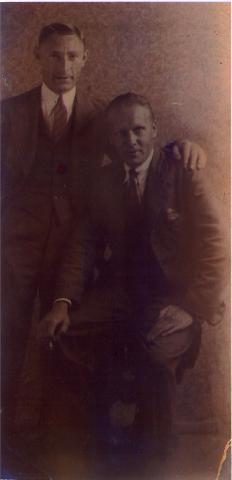 This photo dates from the late 30's or early 40's. The man standing beside Charlie is a friend of the family. Notice Charlie isn't averse to be photographed holding a lit cigarette.
Here is the entry in the register of births for APR-MAY-JUN 1899. So as this is the registration date we can assume Charles was born sometime between March and June 1899. Births had to be registered before 42 days had expired since the birth on pain of a fine.

And here is the register of his death aged 47 and registered in Gateshead between Oct, Nov and Dec 1946.

Charles and WWI
Break of Day in the Trenches
The darkness crumbles away
It is the same old druid Time as ever,
Only a live thing leaps my hand,
A queer sardonic rat,
As I pull the parapet's poppy
To stick behind my ear.
Droll rat, they would shoot you if they knew
Your cosmopolitan sympathies,
Now you have touched this English hand
You will do the same to a German
Soon, no doubt, if it be your pleasure
To cross the sleeping green between.
It seems you inwardly grin as you pass
Strong eyes, fine limbs, haughty athletes,
Less chanced than you for life,
Bonds to the whims of murder,
Sprawled in the bowels of the earth,
The torn fields of France.
What do you see in our eyes
At the shrieking iron and flame
Hurled through still heavens?
What quaver -what heart aghast?
Poppies whose roots are in men's veins
Drop, and are ever dropping;
But mine in my ear is safe,
Just a little white with the dust.
- Isaac Rosenberg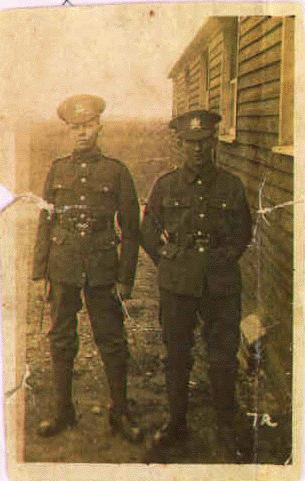 This photo is a postcard sent by Charles from the front in 1917 or when he was aged 17. Charles is the character on the left holding the 'swagger stick'. This had several uses, mainly it was to keep you hands out of your pockets but could also be used to 'dress the line' in otherwords each man had to be the distance of the swagger stick apart when on parade. It was also used to impress the ladies when swaggering about town. Each one had the regimental crest on it at the tip. Charlie is wearing the uniform of the Prince of Wales own regiment of Yorkshire (See detail of the badge below). Fatha says that there is no writing on the back of this postcard which is a great shame. By 1917 Conscription had come into force as Kitchener and Haig required a new million man army. Whether Charles was conscripted or was following his fathers example by enlisting we don't know although if he was enlisted in 1917 then he almost certainly would have done or joined to escape the stigma of being 'white feathered'.In fact Charles enlisted on 17th February 1917 aged 17 years and 11 months which would mean his birthday would have been in March. His address is listed as 58 Queen Street, Birtley, Co. Durham and his job is listed as a 'Checker'. Not a popular job at the time. He was called up on 17th May 1917. His army records state that he was 5 foot 1 and a half inches in height and had a 32 inch chest. He served in the 15th Battalion and was also transferred into the 4th and the 8th Btn's presumably to cover for heavy losses in those battalions. In 1920 his record states that he applied for some disability benefit and was turned down.
The first army that went to Belgium and France was the professional army, the B.E.F. or British Expeditionary force. This force would have been comprised of the men based in Britain and the colonies and some would have been veterans of the Boer war, certainly the higher officers were men who had fought in that war. They were supported and replaced by the territorial reservists. The B.E.F. were led by the finest cavalry officer of the day (apparently) General Sir John French. It was French who complained that the army didn't have enough shells in order to effectively make a breakthrough of the German lines, this led to a great scandal back in Britain and the situation was soon rectified by establishing munitions factories throughout the British Isles. French was dismissed and replaced by Haig. The next army that went out was Kitcheners army of volunteers, the 'pals' regiments where school chums, football teams and men from factories enlisted en masse. These were the men who were told to walk rather than run at the Somme and were wiped out in a matter of minutes after 3 years of training. Charles would have gone out with the third army, the conscript army. The conscript army was made up of all the men who were left at home who could be declared fit for duty and were not in a protected profession such as coal miners and Doctors. Only Charles made it to France. Herbie was already in Canada, Donald somehow didn't go and lived all his life with his mother while Arthur had epileptic seizures and was declared unfit. We can assume that Donald wasn't considered of the right material either for whatever reason.
Allocation of recruits was quite arbitrary by 1917 as so many units had been decimated by then, a recruit could literally end up in any unit hence his appearance in a Yorkshire regiment. Charlie was gassed during the war. Whether this was by enemy or friendly activity we don't know. Both are eminently possible depending on how the wind blew although you would expect that if the British were attacking the Germans with gas they'd have the decency to equip their own men with masks. The gas so badly affected his lungs that he died at the age of only 45 (or 47). Although still of military age when the next war came along Charlies lungs were so poor that he wouldn't have even been considered for the Home Guard never mind the regular army. By the time Charlie joined up the Germans were using Phosgene gas as well as Mustard gas. Phosgene was invisible but had a distinct smell of wet hay. It was designed to damage your respiratory system. Mustard gas could be seen and took a long time to disperse.

His friend could be wearing the cap badge of the 25th Regiment Scottish Borderers, shown below. As I said above allocation of new recruits was very arbitrary and his chum could be his next door neighbour who ended up in a totally different regiment to Charlie.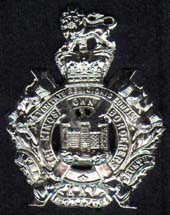 It is certainly NOT the Durham Light Infantry whose badge is a bugle and it is NOT the Northumberland Fusiliers either whose badge is a grenade. It could be the cap badge of the Manchester regiment or the General Service Corps.
This is a later photo and must be from 1918, note that his uniform now carries a medal ribbon which can be identified as a service medal rather than anything for gallantry (see below). Every serviceman was awarded a medal just for turning up. Maureen says that James Lewis had medals too which have all gone. According to a friend there was a medal for each year of W.W.I. There would also be a medal for wounds. Gassing (by either side) would qualify for a medal which would enable us to date this photo if we assume he would gain a medal for 1917 another for 1918 (if he completed the war) and another for his 'wound'. Perhaps this photo was taken when he was recuperating from the gas attack. There would also be medals and/or bars for each campaign, Arras, Amiens, Cambrai, Somme, Ypres etc. so I would assume Charlie would have perhaps 5 medals from W.W.I. Maud claims she has 3. However, Charles' medal sheet from the National Archives shows just the two medals. The Victory medal and the Service medal. Charles' record is bottom right hand corner also confirming his serial number and his Regiment as the Prince of Wales West Yorks. Obviously Charles hasn't received his Victory medal ribbon in this photo which should allow us to date the photo. Charles would be aged about 19 in this photo.
Research: Find out the dates of issue of the Service medal and the Victory medal.
One story told by Charlie to his children was that he was in a trench during a German assault when a German approached his section with his hands held up asking to surrender. Charlie promptly shot him. By 1917 the Germans had started to employ Mustard gas as part of their offensive against the allies, they had previously used chlorine (used first to great outrage in Britain but the outrage soon led to copying the Germans), phosgene and even Prussic acid, it is therefore likely that Charlie succumbed to a mustard gas attack. In 1917 the British army suffered 850,000 casualties. The West Yorks served at:
Armentieres 1914, Neuve Chapelle, Somme 1916, 1918; Ypres 1917, 1918; Cambrai 1917, 1918; Villers Bretonneux, Lys, Tardenois, Piave, Suvla.
They have accredited battle honours for:
Aisne 1914, 1918; Aubers, Hooge 1915, Loos, Aubers 1916, 1918; Bazentin, Pozieres, Flers-Courcelette, Morval, Thiepval, Le Transloy, Ancre Heights, Ancre 1916, Arras 1917, 1918; Scarpe 1917, 1918; Bullecourt, Hill 70, Messines 1917, 1918; Pilckem, Langemarck 1917, Menin Road, Polygon Wood, Poelcapelle, Passchendaele, St Quentin, Rosieres, Hazebrouck, Bailleul, Kemmel, Marne 1918, Amiens, Bapaume 1918, Drocourt-Queant, Hindenburg Line, Havrincourt, Epehy, Canal du Nord, Selle, Valenciennes, Sambre, France and Flanders 1914-18, Vittorio Veneto, Italy 1917-18, Landing at Suvla, Scimitar Hill, Gallipoli 1915, Egypt 1915-16.
Only by finding out which battalion Charles served in can I find his military record held at the West Yorks museum in York.
Dead Man's Dump
The plunging limbers over the shattered track
Racketed with their rusty freight,
Stuck out like many crowns of thorns,
And the rusty stakes like sceptres old
To stay the flood of brutish men
Upon our brothers dear.
The wheels lurched over sprawled dead
But pained them not, though their bones crunched;
Their shut mouths made no moan.
They lie there huddled, friend and foeman,
Man born of man, and born of woman;
And shells go crying over them
From night till night and now.
Earth has waited for them,
All the time of their growth
Fretting for their decay:
Now she has them at last!
In the strength of their strength
Suspended-stopped and held.
What fierce imaginings their dark souls lit?
Earth! Have they gone into you?
Somewhere they must have gone,
And flung on your hard back
Is their souls' sack,
Emptied of God-ancestralled essences.
Who hurled them out? Who hurled?
None saw their spirits' shadows shake the grass,
Or stood aside for the half used life to pass
Out of those doomed nostrils and the doomed mouth,
When the swift iron burning bee
Drained the wild honey of their youth.
What of us who, flung on the shrieking pyre,
Walk, our usual thoughts untouched,
Our lucky limbs as on ichor fed,
Immortal seeming ever?
Perhaps when the flames beat loud on us,
A fear may choke in our veins
And the startled blood may stop.
The air is loud with death,
The dark air spurts with fire,
The explosions caseless are.
Timelessly now, some minutes past,
These dead strode time with vigorous life,
Till the shrapnel called 'An end!'
But not to all. In bleeding pangs
Some borne on stretchers dreamed of home,
Dear things, war-blotted from their hearts.
A man's brains splattered on
A stretcher-bearer's face:
His shook shoulders slipped their load,
But when they bent to look again
The drowning soul was sunk too deep
For human tenderness.
They left this dead with the older dead,
Stretched at the cross roads.
Burnt black by strange decay
Their sinister faces lie,
The lid over each eye;
The grass and coloured clay
More motion have than they,
Joined to the great sunk silences.
Here is one not long dead.
His dark hearing caught our far wheels,
And the choked soul stretched weak hands
To reach the living world the far wheels said;
The blood-dazed intelligence beating for light,
Crying through the suspense of the far-torturing wheels
Swift for the end to break
Or the wheels to break,
Cried as the tide of the world broke over his sight,
'Will they come? Will they ever come?'
Even as the mixed hoofs of the mules,
The quivering-bellied mules,
And the rushing wheels all mixed
With his tortured upturned sight.
So we crashed round the bend,
We heard his weak scream,
We heard his very last sound,
And our wheels gazed his dead face.
Isaac Rosenberg, 1917



This is the Victory medal. Some 6 million of these were awarded. Ours has Pte C. L Wright, W. Yorks Regt and his service number 60576.
This is the war medal for 1914-18, again some 6 million of these were awarded in 1918. This is the medal ribbon Charlie is wearing in the picture above.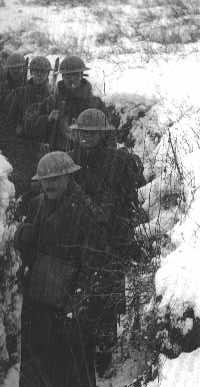 Arras 1917, British troops in a trench
Chronology of 1917-18
In 1917 in May Charlie would have taken part in the Battle of Arras.
May 16th. British capture Bullecourt.
June 6th. British take the Messines-Wytschaete ridge.
July 31. A Franco-British attack penetrated the German lines on a 20-mile front.
October 9. Poelcapelle and other German positions captured in Franco- British attack.
November1. Germans abandon position on Chemin des Dames.
November 21. Ribecourt, Flesquieres, Havrincourt, Marcoing and other German positions captured by British.
November 24. Cambrai menaced by British, who approach within three miles, capturing Bourlon Wood.
December 5. British retire from Bourlon Wood, Graincourt and other positions west of Cambrai.
February 21 1918. Ludendorff launches his series of major offensives, known as the 'Kaiserschlacht' in an effort to gain a decisive victory before the effect of the America entering into the War can be fully realised. Major successes are reported.
February 23. German offensive redirects towards Amiens and Paris.
February 28. German Operation 'Mars' repulsed at Arras.
April 9. German launch 'Georgette' offensive against British at Lys.
May 27. German offensive 'Blucher' launched.
May 29. German troops advance to the Marne but are stopped by US Divisions.
July15. Ludendorff launches final offensive.
August 8. Anglo-French counter-attack at Amiens supported by heavy artillery and 400 tanks achieves major successes. Ludendorff describes it as 'the Black Day' for the German army.
September 26. Allied offensive at Meuse-Argonne.
November 11. On the eleventh hour, of the eleventh day, of the eleventh month, the Armistice is signed effectively halting the War. The final Treaty of Versailles, is signed on June 28, 1919.
The Immortals
I killed them, but they would not die.
Yea! all the day and all the night
For them I could not rest nor sleep,
Nor guard from them nor hide in flight.
Then in my agony I turned
And made my hands red in gore.
In vain - for faster than I slew
They rose more cruel than before.
I killed and killed with slaughter mad;
I killed till all my strength was gone.
And still they rose to torture me,
For Devils only die in fun.
I used to think the Devil hid
In women's smiles and wine's carouse.
I called him Satan, Balzebub.
But now I call him, dirty louse.
Isaac Rosenberg, 1917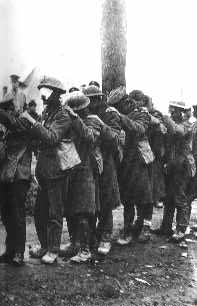 British gas casualties, Bethune 1918
After the war
Charles returned from the western front and within 10 years married Mary Elizabeth Davison. Their first child was Maureen (Born 1929). Maureen, being the eldest, 'got all the good jobs' such as taking her dads suit to the Pawnshop and carrying notes asking Grandad Davison for money. Eventually all the bed sheets were pawned for money, times and particularly employment was hard in the 30's. Apparently Nanas family regarded Charlie as a bit of a black sheep and wanted to know 'what he was up to'. Another tale is that he once blagged the entire family into the Theatre for free. Nana had a breakdown by the sounds of it when he died (making her a widow at 43 therefore born c.1904) and she threw out a lot of his possessions such as his certificates of apprenticeship. This was not uncommon though when a person died
Maureen recalls that he was always making things, models, toys etc. Maud says the Charlie made some wooden boxes which he kept the medals in. He built a caravan in order for the family to travel around. Nana had his artisans certificates, I assume Maud says there were torn up and thrown out. Alan says he was a cabinet maker by trade so that is what these testimonials or certificates would have been.
Research: When were Charlie and Mary married. I assume between the age of 20 and 30 as Maureen was born in 1929. If you search backwards from 1931 (this wouldn't be the first marriage after a child was born or conceived) then eventually I will hit the correct date. However searching from 1924 to 1935 I can't find a date in Newcastle or Gateshead which therefore points to a wedding elsewhere. They would have to have been married sometime after Billy's birth therefore I need to know Billy's D.O.B..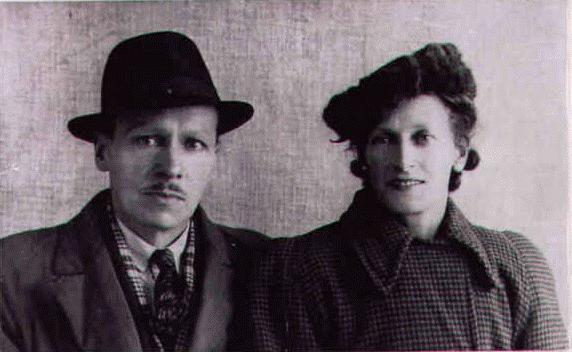 Charles Wright and Mary Elizabeth Davison.
Note the Ronald Coleman/Clark Gable style 'tache'. When Charles married Mary Elizabeth she already had a child by a Mr 'Heathey' Dobson, William. According to Maureen Charlie never wanted Billy in the house, he instead stayed at his Grandma Davisons.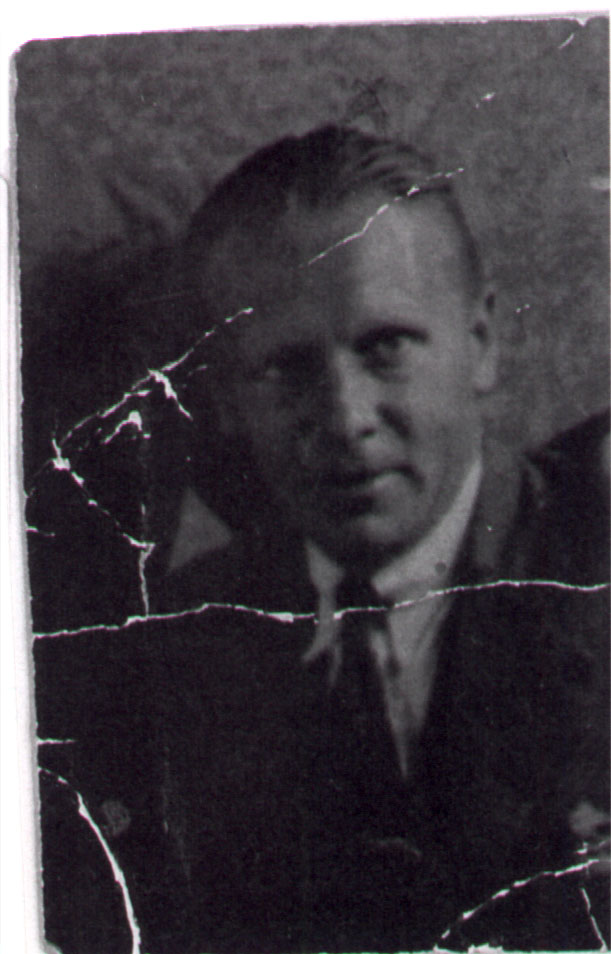 This is Charlie at a later age, probably early 40s. He was taken into hospital to have a lung removed as it was diseased, a few weeks or months later the doctors had to remove half of the remaining lung and he never recovered from that double trauma, which is hardly surprising, and died shortly after leaving Nana with 3 bairns under the age of 5. This may be the last photo taken of him, certainly the last surviving one.